We understand that aches, pains, and muscle soreness can be a common part of life. But, it shouldn't be the main part of your life. That's why we offer Normatec Boots- the ultimate solution for enhancing your recovery process!
What Are Normatec Boots?
Normatec boots are a cutting-edge recovery technology used by professional athletes, fitness enthusiasts, and individuals seeking rapid and effective recovery. These boots use advanced pneumatic compression technology to improve blood circulation, reduce inflammation, and alleviate muscle soreness. Whether you're recovering from an intense workout, managing chronic pain, or simply looking for a way to relax, this compression treatment can be a game-changer.
Why Choose Normatec Boots?
Normatec boots offer a wide range of benefits, including:
Enhanced Circulation: The boots use dynamic compression patterns to mimic the body's natural circulatory process, improving blood flow and reducing swelling.
Faster Recovery: Using Normatec boots after a workout can help reduce muscle soreness and speed up the recovery process.
Injury Management: Normatec boots can be an integral part of injury rehabilitation by promoting faster healing and minimizing discomfort.
Relaxation: The soothing compression of the boots can provide relaxation and stress relief, making them a perfect option for anyone in need of some "me time."
Pricing & Packages
At our clinic, we want to make Normatec boots accessible to everyone. If you have a scheduled appointment for one of our other services, you are welcome to use the Normatec boots before or after your appointment. However, no appointment is required! You are welcome to come into the clinic and recover with the Normatec boots at your own convenience!
We offer two pricing options:
$1 per Minute: You can enjoy the benefits of NormaTec boots at the rate of just $1 per minute. Pay for the time you need to get the relief and recovery you desire.
Packages: For even more value, we offer package deals designed to fit your specific needs. Below are the available package options!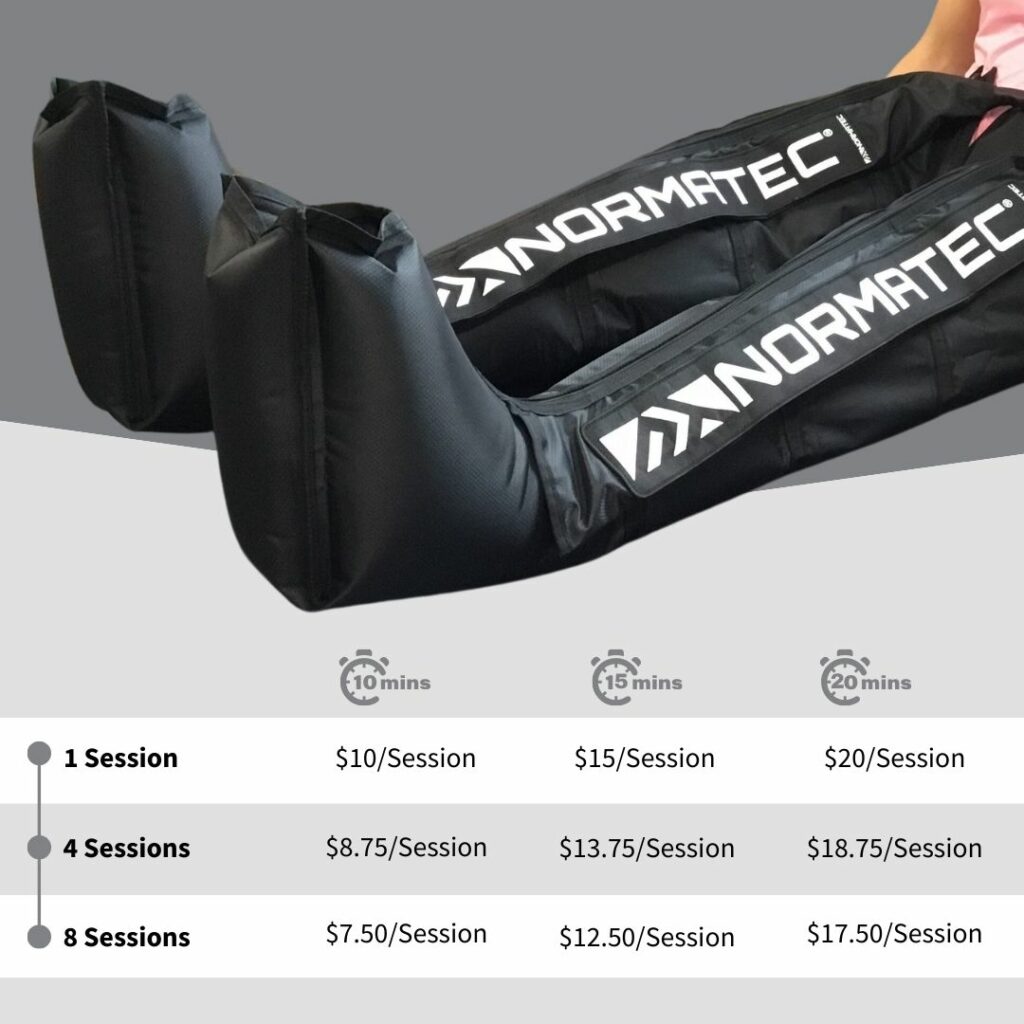 How It Works
Using Normatec boots is simple and enjoyable. You'll relax in a comfortable chair, slip on the boots, and let the system work its magic. The boots will inflate and deflate in a rhythmic pattern, massaging your legs and stimulating circulation. You can sit back and unwind while feeling the tension melt away.
Safety and Comfort
Rest assured that Normatec boots are safe and comfortable. They are designed to accommodate individuals of various body types and sizes. You can also customize the intensity of the compression to match your comfort level. Our staff is trained to ensure that your experience is both enjoyable and effective.
If you are interested in recovering with Normatec boots, call or visit our clinic today! You don't need an appointment to use the Normatec Boots, walk-ins are welcome!
Normatec boots offer a path to rapid recovery, relaxation, and improved overall well-being. Whether you're an athlete, dealing with muscle soreness, or simply seeking a moment of relaxation, these boots can help you achieve your goals. Join us at our clinic and experience the difference today. Your journey to better health and vitality begins with Normatec boots!