How Massage Therapy Can Combat Poor Sleep
Struggling to catch some quality ZZZ's? Sleeping is essential to our lives and considered a basic human necessity. So, why can it be so hard to get a refreshing night of sleep? Regardless of the reason, there is one natural remedy that can assist you in getting a better night's rest… massage therapy!
The Importance Of Sleep
First, let's discuss why sleep is so essential to our health and wellbeing. It is found that the way you feel when you are awake depends largely on what happens while you are sleeping. So… if you are groggy, short tempered, or can't seem to shake a bad mood, you could be suffering the effects of poor sleep! This isn't the extent of symptoms either… In fact, The National Heart, Lung, and Blood Institute states that inadequate sleep greatly increases your risk for chronic health problems, and affects how well you think, react, work, learn, and get along with others.
As you can see, sleep is no simple matter and should not be taken lightly! But, fear not! There are ways to combat poor sleep quality! And I'm not talking about taking sleeping pills. Instead, there are natural treatments such as massage therapy!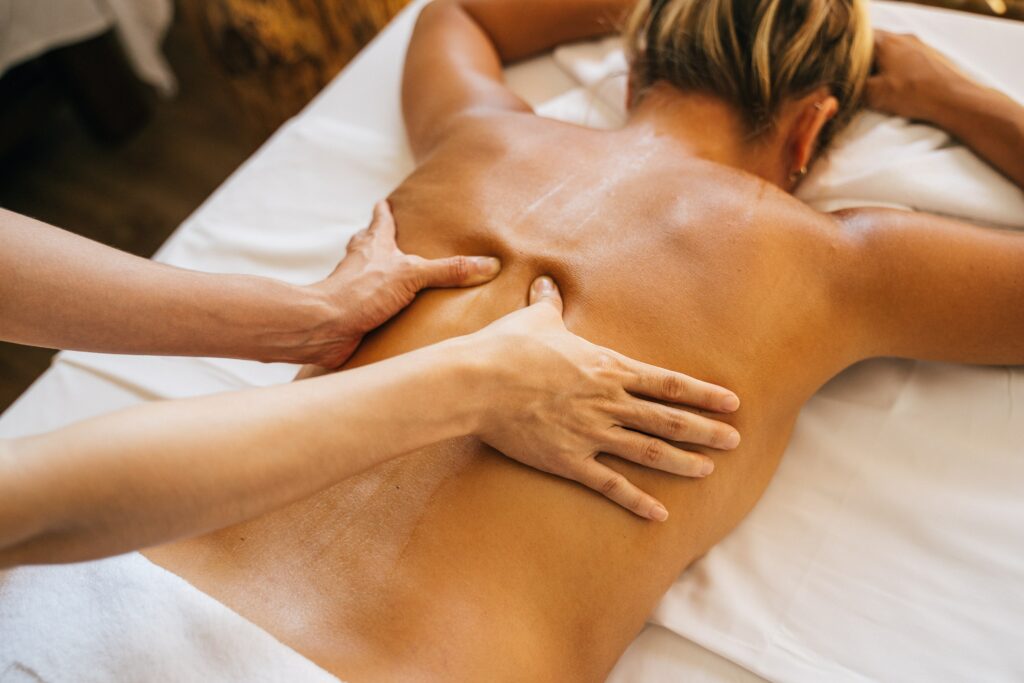 What Is Massage Therapy?
During massage therapy, a licensed massage therapist will rub, knead, and apply pressure to the body. This type of treatment targets muscles, connective tissues, tendons, ligaments, and skin. To talk scientifically, massage therapy stimulates the vagus nerve. This nerve is a major nerve in the body and affects many bodily functions. When the vagus nerve is stimulated during massage therapy, it tells the whole body to relax, lowers your heart rate, lowers blood pressure, calms muscles, and decreases the production of stress hormones (less stress=more sleep!). All of these bodily reactions correlate to sleeping! In fact, our bodies naturally lower our heart rate and blood pressure when we sleep… So, massage therapy assists your body in performing its natural function more efficiently and effectively!
Now, back to the sleep issue. The Cleveland Clinic estimates that 1 in 3 adults worldwide experience insomnia symptoms, and 10% of the population meets the criteria of insomnia disorder! That is a whole lot of sleep NOT happening! Many people don't even realize the negative impacts that poor sleep can have on their health. Luckily, our expert massage therapists at Midland and Freeland Sports Rehab are ready to help!

In addition to helping you get quality sleep, research from the Mayo Clinic suggests that massage therapy also helps with anxiety, digestive disorders, headaches, stress, and more! Furthermore, massage therapy can assist treating heart and circulatory problems, hormonal inconsistencies, metabolism, and respiratory conditions all linked to inadequate sleep. (Fun fact: people who do not get enough sleep or wake up often during the night have a higher risk of coronary heart disease, high blood pressure, obesity, stroke, and are more likely to catch colds and other infections).
Although sleeping doesn't seem like a make or break in our overall health and wellbeing, it is a silent monster… just like the monster underneath your bed (pun intended). Do not compromise on your sleep and DO NOT compromise on your health! Visit us at Midland Sports Rehab & Freeland Sports Rehab to get started on the road to counting sheep and catching zzzzz's!
Sources