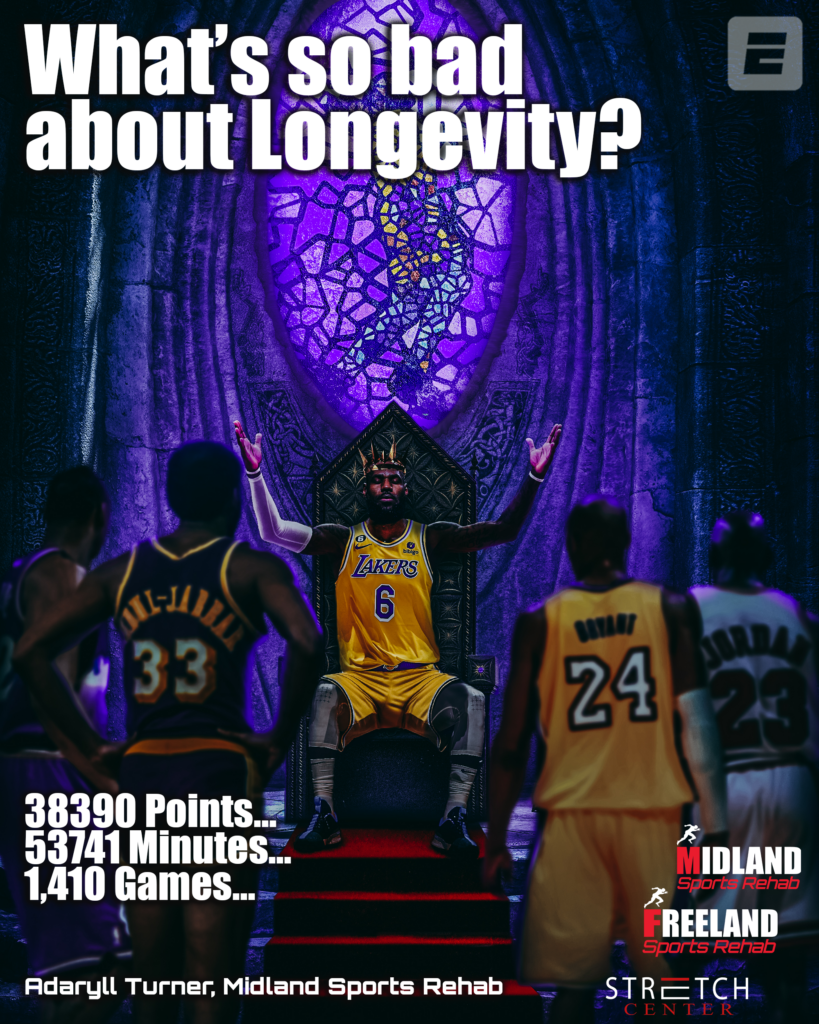 38,390 pts later… is Lebron James the greatest player we have ever seen????
The argument has certainly been cycling your sports world for years now.
What is not up for debate is the "King" is the all time scoring leader of the NBA and it looks like he's not slowing down. In year 20, Lebron is averaging 30.2 points, 8.5 rebounds and 7 assist. Truly an amazing stat line for any player let alone a player who is nearly twice as old his peers on the court at any given time.
How did we get here?
Clearly you do not get here without taking care of your body. I know that he is an athlete and his job is to literally take care of his body so that he can perform at the highest level. Of course we all should be taking care of our body but life gets in the way. Age, injuries and time constraints keep many of us from being the GOAT version of ourselves. Exercise is not easy, dieting is even harder and an injury can make you feel like you will never get back to your old level of health.
Lebron James reportedly works out multiple times a day, 6-7 days a week, has a personal chef and spends 1.5 million dollars a year on his body. There is now way we could expect any of these things in our life for a regular biases (unless the reader is also a professional athlete) but lets break these down a bit.
Working out is one of the few things in life that you can mostly do for free. Eating is costly so lets attribute a fair percentage of the 1.5 million to eating and nutrition based expenses. All NBA teams provide Doctors, Therapist and Nutrition services but Lebron clearly invests more in addition to those. The cart is loaded already, and I bet that we are close to the $1.5 already with all of these considerations but lets simplify this to a daily-weekly routine for the sake of avoiding timely math.
He reportedly stretches 30-60 minutes every morning, gets assisted stretching for 30-60 minutes before and after games. He get's chiropractic adjustments 3-5 times a week, sports massages 3-5 times a week and works regularly with a personal trainer who graduated with a degree in health education. In all fairness, it could still be hard to fit all of this into your regimen for the sake of your own longevity… unless you visit Midland Sports Rehab or Freeland Sports Rehab!
You can literally get chiropractic care, massages, physical therapy and assisted stretching IN ONE VIST!
Dr Jeff Berard who once worked on for the Miami Heat can tell you how valuable chiropractic care is for athletes. Dr Tim Sala has worked with pro athletes around the country and has plenty of insight on how treatment is not just for an immediate injury but also for the immediate future. Our physical therapist are some of the most skilled in the world. You do not have to be a professional athlete to get professional services. Maybe you just want to work on your swing? You can schedule an one-on-one TPI Golf assessment with Dr. Eric Fridline as well as create a program to complete in or out of the office that will improve your golf game
The Stretch Center in both locations and offer many other services so that you can have "GOAT" like longevity.
We often look at success as the results during the peak of our life. Thinking back about how things were when we were in our best shape & health. We go down a list of accomplishments from our prime and rest our laurels there. Jordan had the most successful NBA career by any standard. When Jordan was at his best and in the peak (NBA finals) of his career, he is undefeated. His prime is unmatched and deserves to be marveled. At the end, he was still a fierce competitor and scorer. While many considered his last two years as ceremonial, he simply was not the other worldly player we came to love and admire.
Consistency, sustainability and longevity are concepts we praise in any other category except health. In fact, many tie Lebron James's accomplishments and statistics to "Longevity" and refuse to attribute them to the GOAT argument. But because of said Longevity the argument continues and we are all here for it!
Lets work on your longevity together! Book an appointment today!
Visit either Midland Sports Rehab or Freeland Sports Rehab and get your first assisted stretching session for free with the Stretch Center!